Nothing can stop one's passion. Who could imagine, a boy from a farmer family in the remote village of Idukki District in Kerala, would take Tourism as his passion!
George Scaria, founder Managing Director of Keralavoyages, hails from a remote village in Kerala where all his family members are engaged in farming. After his schooling, he opted to master in English Language and Literature and joined a college in the city. And he never went back to his family farming until he identified his real passion for Tourism.
Though his intention was to become an English teacher in one of the colleges, he could not stick to that. During his Masters, he tried many teaching options as part time, but teaching did not bring him a job satisfaction. In 1989 after his Post Graduation, he started working in an Automobile spare parts marketing company and stayed there for five years where he had his most rustic training and marketing experiences in his career that one should have in his / her career.
Still he could feel that he is in the wrong career path. And the sudden call came magically! In 1995, one of his good friends who was a banker introduced him to a Non Resident Indian living in Dubai who wanted a reliable Manager to look after his upcoming investments in Kerala. As George was given a freedom to choose the area of prospective investments, his first choice was to start a professional Tourist Taxi service which was a new idea those days. His big passion for automobile was also behind this choice. A dramatic entry to his passion, the real identification. It reminds him of his days in his college where he was a part of the crew in staging Shakespearean plays. So dramatic and magical. Unexpected. George could drastically change the entire profile of Tourist Transport Industry by bringing in the best quality vehicles, trained chauffeurs, healthy and sustainable working atmosphere etc. Later this model was copied by many. George is happy that many of the best known tourist drivers were being trained by him.
In 2000, George decided to have his own brand in Hospitality as he found limited growth prospects in employment. But even today he is thankful to his first boss in Hospitality because he had a great freedom and opportunity to learn the establishment and progression of a business infrastructure. When he was all set to start his own travel Company, his former employers, Cochin Exports Pvt Ltd, invited him to form a Tour Company as a joint venture. On 25 October 2000, CEL Tours & Travels Pvt Ltd got incorporated with Registrar Of Companies with George Scaria as Managing Director holding just 15 % shares in the Company. The Company did well and made a great reputation among big Tour operators for providing the best tourist transport services. George was not happy with just being known as a transporter as his expertise and experience in South India made him confident in offering special interest, tailor made  tours to the domestic travellers which was successful too. Finally when he wanted to start exploring the International market in 2006, there arose a conflict of interest with his main stakeholders. His partners did not want to spend on marketing overseas which would have affected the distribution of dividends. But George had sustainability rather than instant profits in his mind.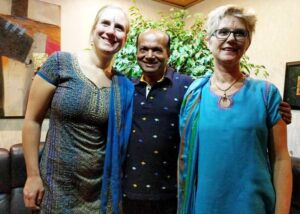 Almost at the same time, George met Nadja Schlesinger, a German lady who became a neighbor as she joined the family of a German Expat living in Cochin near to George's home, to teach their children as there was no German School in Cochin. Nadja and George became close family friends and she chose George to organise her vacation in South India with her boyfriend (Now her husband) and returned with a great experience. George still recollects the dinner invite by Nadja and her boyfriend Junes in her apartment where he tasted a typical German meal!
Later she introduced the German Expat, Mr Stefan Groening and his family also to George. Stefan with his office based in Cochin, Kerala became a client for his family vacations and of his colleagues from different parts of Europe. Stefan and his family are still a regular traveller and family friends to George and Keralavoyages.
After few weeks of her travel, Nadja brought her parents Helma & Werner Schlesinger, for a tour in South India. This tour is still a discussion in the Schlesinger family especially on how Werner used to chill his beer in his room by tying the beer bottle in front of the blower of his window AC in their room! But they had a wonderful time in India. All of them still appraise the service of their driver in both trips.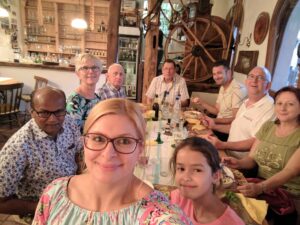 In a short period, George and Schlesinger family became so close like they have been knowing each other for years. Finally this ended up as Schlesinger family in Wicker, Germany accepted George as one of their family members which gave him confidence in expanding his marketing in Europe. George still gratefully recollects that he was so lucky to stay in a European family which gave him the best insights on the European approach and this was his best tool in designing the hand crafted tours to discerning travellers.  And he started travelling to Germany frequently to explore the expansion possibilities since 2007.
At his stand at ITB Berlin in 2009, George met, Jana Tschitschke, a Travel Writer, and already a fan of India. Later they became family friends and she also helped George to establish his marketing base in Europe. George's close association with Punarnava Ayurveda Hospital Group since 2004 brought him a great exposure towards the holistic alternative medicinal branch of India, Ayurveda along with Yoga.
​In the meantime, George and his partners mutually decided to say bye to their business partnership, though still they maintain their friendship and respect each other. George was given an option to buy the 85% of shares held by his partners .He had to mobilize a huge amount to pay off the shares but he managed with the help of his savings, family support and mortgaging his villa. In 2007, the Company became George's own. Still it took another five years to enable the Company to rebrand as Keralavoyages India Pvt. Ltd. as there were some restrictions in using the name of the State as a part of a Company name.
In 2012 CEL Tours & Travels became Keralavoyages India Pvt. Ltd. Immediately after the takeover, the global recession in 2008 & 2009 affected the business and George was at the edge of a collapse especially when he had to shed his last penny to buy the Company in 2007. Somehow he managed until 2010 and survived. But he found it difficult to manage both marketing and operations alone as few of his managers found their own ways after getting trained. On a casual get together at a common friend's place, George met Rajesh Gopinathan, who is a Graduate Mechanical Engineer, already into events and MICE, as the Managing Director of Ergo Consulting Services India Pvt Ltd. After just half an hour's discussion, they found a Chemistry between their business ideas and decided to work together. Rajesh & his brother Rajeev Gopinathan who also is a Graduate Mechanical Engineer with a Master's in Business Administration, bought 50% of the shares in Keralavoyages and started working together since 2010 to bring solutions to travellers on curating tailor made Sustainable Tours in South India. Rajesh used to help George in marketing and Rajeev took full charge of operations and of course becoming a part of marketing initiatives at major travel fairs abroad.
Since 2007, Keralavoyages has a regular presence in all major Travel Fairs in Europe which brought many amazing partners to them which made the Company a Sustainable one in the B2B segment. In 2014, Keralavoyages got accredited status from Ministry of Tourism, Govt Of India and Department of Tourism, Govt Of Kerala. The business partnership has grown towards a two families' business and all family members of both the families are doing their part in bringing up the business. This is the reason you see many faces when you scroll down their webpage "Team" section. They found that local networking at destinations and involving the local people are the best ways to ensure a real experience to tourists and also the most sustainable way towards growth. Keralavoyages always gave a special focus on the three Ps of Sustainability- People, Planet and Profit (The economic results to the local community).They also had a special focus on empowering women entrepreneurs by grooming them to offer experience programs to the tourists to earn an additional income.
In their journey, they found Benny Kurian, a passionate Nature lover and social entrepreneur involved in training the tribal people to make a decent livelihood in Tourism related services. Since then the team started evolving completely towards Sustainable practices both in business and in life.Keralavoyages is proud of their partners around the globe who helped them to grow sustainably. As the list, names of people who are still with Keralavoyages in their growth and the connected stories are not short enough. Including the same here may make this content much bigger. They apologize sincerely for not mentioning all names.
In 2016, George was lucky enough to meet Mr Hubert Siller, Head of the Tourism department at MCI Management Centre Innsbruck, Austria, an AACSB-accredited University and Entrepreneurial School for Graduate and Masters Programs in the fields of Management & Society and Life sciences & Technology. The meeting and a later student's group visit to Kerala through Keralavoyages all resulted in a lifelong professional relationship. Tourism Business Studies coordinator Theresa Mitterer-Leitner also played a major role in evolving a meaningful mutual relationship.
George is now a Guest Lecturer at MCI University for the operational side of Tourism "Beyond Academics" and Sustainability in Tourism. He delivers his lectures to both undergraduate and Master students every year at MCI.
Team Keralavoyages got an opportunity to handle its biggest Corporate group Lakshya 2019 of Abbott Laboratories Ltd, a client of Ergo Consulting. Handling the logistics of around 3200 delegates from different parts of India for 6 days was not an easy job especially when something seriously went wrong with the flight reservations of the delegates. This was informed to team Keralavoyages just one day prior to the first arrival that they need to expect delegates in any flight coming from anywhere. The team worked 48 Hours in a line and handled everything smoothly. Apart from the high appreciations from the client, the Event Management Association Of Kerala (EMAK ) honoured  Keralavoyages by giving the Silent Heroes Gold Award for the best logistics partner in Kerala.
As a part of expanding their marketing focus towards B2C , they launched Tourmakers as their division for hand crafted sustainable experience tours targeting the niche travellers across the globe. George's son Sharon George took over the brand and its digital presence which is still under progression towards marketing projects post Covid. Sharon, who has the Electronics Engineering and a Certificate on Social Media Management in Google Digital Garage as his educational background, has joined the Board Of Directors as in charge of the digital presence of the Company. He is also progressing with his German language studies. His joining is also the beginning of the entry of the next generation to the business.
Covid Pandemic was a real crisis for Tourism. But Keralavoyages, found this as an opportunity to equip themselves to evolve into a better, sustainable and safe service provider for a Better Normal. In 2020 March, George was supposed to meet Alexandra Pastollnigg of Fair Voyage, Switzerland at ITB Berlin to discuss a possible partnership project for South India. Unfortunately ITB got cancelled and their meeting had to go online later. Alexandra and George realised that a likeminded synergy is there and decided to work together. As Fair Voyage is a Travelife Partner Sustainable Tour Operator working strictly on the Sustainability part of Tourism, Alexandra introduced Keralavoyages to Travelife in April 2020.
As business was completely locked down due to Covid, George and his team took an extra effort to complete the Sustainability certification

process by completing the training modules and later reporting to Travelife. On 27th May, Keralavoyages got Travelife Partner status, a global accreditation on Sustainability as per Global Sustainable Tourism Criteria. This has come with an extensive Sustainability training and certification to all the team members too. On the successful satisfaction on more than 200 check points on Sustainability, Keralavoyages was awarded Travelife Certified Accreditation as the first in India on 25 November 2020. This brings more responsibility to the Company towards sustainability within and among other partners and stakeholders in the destinations.  In the meantime,  Keralavoyages also got Safe Travels Stamp by WTTC.
Management of Keralavoyages is happy to see that they did not send any of their employees' jobless in spite of the complete lock downs and zero business due to Covid. They are now looking for a Sustainable way forward to protect the interests of People, Planet and the Economic results for the local community. A long way to go but they are hopeful because of their strong partnerships across the globe and the local community. They have just started the ground work of their new project NATURE TO HOMES, a virtual Mart for the Eco & Natural products made by the Social Entrepreneurs across India. This is to complement their commitment to the Sustainability elements- People, Planet & Profit.
George still recollects his days in St. Berchman's College, Changanacherry, Kerala where he was the assistant stage Director for staging Shakespearean Plays every year. At this juncture of his business in Tourism, he has in his mind the brave Antonio in the Shakespearean Play, "Merchant of Venice'' who survived the terrific  days in his career and looking forward towards a more peaceful future.
Acknowledgements:
This brand story is real and published after contacting all individuals whose names are mentioned. Keralavoyages team is thankful to all of them for their instant permissions and encouraging words. Few of such messages are as below.
Schlesinger Family: Hey George! Impressive story you can really be proud of your achievement. We really feel honoured to be a part of it.
Groening Family: Dear George, Very interesting reading, you can be really proud on the achievements. We are absolutely fine and pleased in the way you mention us in the text.
Jana Tschitschke: Dear George, Thank you very much for including me in your brand story. I'm honoured!
Theresa Mitterer-Leitner & Hubert Siller: Dear George, MCI and we are proud to be mentioned in your Brand Story!
Alexandra Pastollnigg: Dear George, Thank you for your time earlier, transparency and sharing your brand story. I'm inspired by your story (very impressive!), and honoured to be mentioned. Feel free to publish/mention along those lines.