Nature To Homes is a way of life towards sustainable living. It's a Sustainable venture of Greensmith Essentials India Pvt Ltd, a Govt Of India accredited Start Up project jointly owned by Keralavyages India Pvt Ltd, the first Travelife Certified Sustainable Tour operator in India and their sister concern Ergo Consulting Services India Pvt Ltd, a professional Event Management Company. The entire management and crew members of both Companies are a part of the project so that the benefits go to everyone involved.
The core idea of the company is to support the local community by creating a wider marketing platform to their products, the environment by only selling Eco friendly , Natural and Safe to consume products, bio diversity conservation through their Green Bubble project and the Economic distribution responsibly among the Social Entrepreneurs and Farmers.
Nature To Homes is a platform with handpicked natural eco friendly and safe to consume products to enrich the home shopping with a sustainable feeling. All our products are natural. When someone buys from this store, they are supporting the social entrepreneurs and farmers directly who have very limited access to their customers.
Green Bubble is another branch of Greensmith Essentials India Pvt Ltd to conserve the bio diversity in the urban areas to help the city dwellers to have a better sustainable life. Green Bubble is an exclusive horticulture and micro farming division with bio diversity conservation theme, where interested customers can avail consultancy services from our chief bio diversity Consultant Mr Benny Kurian and other farm experts. This division is mainly to promote Micro Container Farming in the small spaces in the cities. The team will also give proper and updated training to all the producers to enable them to incorporate sustainable practices so that they bring minimum load to our planet. Green Bubble will have a variety of indoor and outdoor ornamental plants collection along with hybrid organic vegetable and fruit trees which can grow in containers.
The professional team of networking partners is formed from different sustainable backgrounds. This enables us to offer exclusive free consultancy services to the customers when needed. Senior bio diversity Consultant Mr Benny Kurian is an expert on nature related subjects, organic farming and gardening especially with ornamental plants and biodiversity conservation. This aspect is considered as the USP of the entire project. One of the Directors, Mr George Scaria, is a spice farmer , owns his farm in Idukki District . He is also a certified Sustainability Manager and Trainer as per GSTC (Global Sustainable Tourism Council) accredited by UNWTO.
Company Managing Director Ms Seema Rajesh has business expertise of 17 years and has excellent skill in handling human resources. The physical store in Cochin will be managed by a women team among the existing employees from both the promoter Companies.
Nature To Homes will be the packaging brand of the Company which will bring natural products in sustainable packaging for those suppliers who don't have their own packaging facility.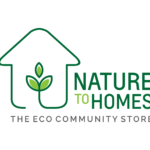 Click Here to Shop