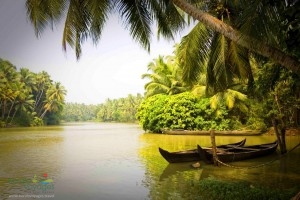 A town with picturesque canals, backwaters, beaches, and lagoons, it was described as the one of the places known as "Venice of the East" by Marco Polo.
Washed by the silvery waves of the Arabian Sea, the Venice of the East welcomes you to the backwaters of Kerala.
The Palm fringed canals and shores bustling with glimpsesfrom the day to day life in the country side, the mirror still lagoons, picture book lakesides and its long sandy beach has blessed , the water locked district, to become one of the best Backwater tourism destinations in God's Own Country.
The large network of canals provideAlleppey its lifeline. Snake boat races are a traditional event in Alappuzha. These spectacular regattas are usually held between August and October, and involve long thin boats powered by up to 120 oarsmen. The most famous snake boat races are the Nehru Trophy Boat Race and Champakulam Moolam Boat Race.